iRevo Platform
The iRevo Platform is comprised of several key functional modules that enables service providers to ingest a variety of videos, live TV channels, web content, apps, games and more. From the ingested content, various service packages can be created and assigned to Users / Devices. A customized iRevo App (your home screen) on the device side can consume these packages to provide access to a comprehensive content collection from this single App screen. There are other modules that enable daily alerts, notifications, App updates and more. There is an Ad module that enables Ad placement in UI and analytics module that aggregates user behavior data.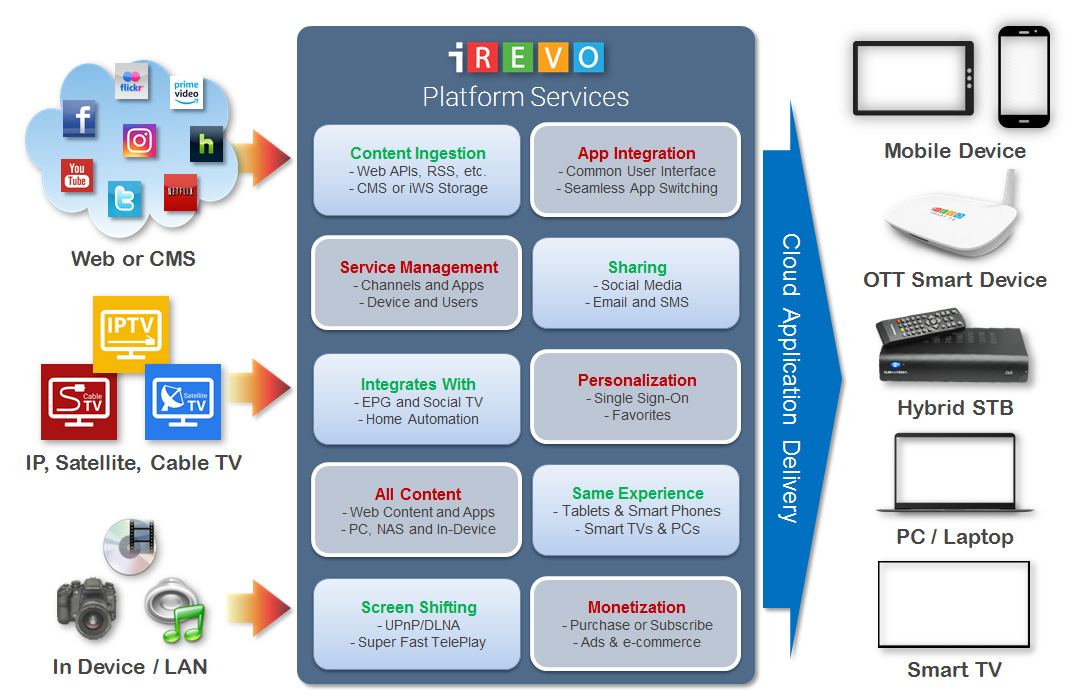 Versatile
You can offer your own content in your custom UI and complement your service by adding third party content, like Facebook photos, via APIs (we call it a Channel) or by simply adding an affiliate App like Netflix along with your offering. Using the iRevo OTT and Live TV management console, adding a Channel or third party Apps in your service suite is snap. Want to add additional pay-per-view services or Live TV channels? Done in a matter of minutes instead of days or weeks.
Customizable
Our Apps are fully customizable to tailor to your specific needs, delivering your unique, branded service with all the features you want. A fully customized and branded solution typically takes days to weeks instead of multiple quarters.
Scalable
The iRevo Platform is proven to be highly scalable to millions of users and is designed to scale dynamically as your business grows. Our distributed platform has a global reach and can quickly respond to a surge to regional demands.